Favorite Places in Kyoto (Updated!)
Kyoto is a city of romantic illusions, of gardens and shrines, white paper lanterns and willow trees, narrow riverside streets lined with gracious old wooden homes. People go to Tokyo on business and to Osaka for a dose of pop culture, but Kyoto draws students of calligraphy and Zen, idealistic poet-pilgrims who stroll misty-eyed down the Philosophers Path, finding their exotic vision of Japan confirmed with each solemn toll of a temple bell.
It's a good thing most visitors to Kyoto know what they will find there in advance, because someone arriving at the glaring glass immensity of Kyoto Station uninitiated might assume they were in a bustling suburb of Osaka. Most of Kyoto is no different from any other Japanese city – a user friendly jumble of office buildings, convenience stores and non-descript apartment blocks, interspersed with pockets of real beauty. The only difference is that in Kyoto, such pockets are a little more numerous and a little more beautiful than most, and the city, knowing the value of its reputation, takes great pains to maintain its traditions, ushering visitors along to the neighborhoods where they will find what they came to see.
Many of the well-known sites are clustered among the hills to the East of downtown, a pleasant walk from the banks of the Kamo River. The most famous temples and shrines are stately and striking, but fame brings crowds to match, and anyone hoping for solitary contemplation of the Zen gardens at the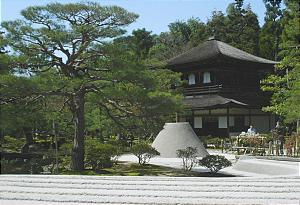 Silver Pavilion will find their meditations overwhelmed by legions of fellow tourists snapping away with their cell phones. The places I liked the best were a bit more difficult to find, and although I can hardly claim the mantle of a Kyoto insider, I'd like to share them with you here.
My mother arrived in Kyoto clutching a dog-eared copy of "Old Kyoto: A Guide to Traditional Shops, Restaurants and Inns," written by a woman named Diane Durston. Although some of the fine craft shops mentioned in the book turned out to be sticky (and expensive) tourist traps, I'm grateful to Durston for pointing us towards the Hakusanso Villa, a lovely old estate and garden built by the painter Kansetsu Hashimoto in 1916. These days the villa houses a gallery and a restaurant run by Hashimoto's daughter-in-law, a woman who exemplifies the classic Kyoto blend of understated elegance and gracious hospitality.
Hakusanso Villa lies just a few steps from the bottom of the narrow street that leads to the Silver Pavilion, one of Kyoto's most celebrated sites. Even though the grounds are just as spacious as those of its famous neighbor, the interior is hidden from the street by fences and shrubbery. Having made a reservation for lunch, my parents and I walked past the entrance three times before noticing a discrete sign reading "Kansetsu Hashimoto," with no mention of a restaurant.
Once inside the grounds, Hashimoto's daughter-in-law ushered us through the creaky corridors of her venerable home and up a staircase to a private tatami room overlooking the garden pond. She made sure we had everything we needed, stayed for a few minutes of conversation in near-perfect English, then excused herself while a waitress poured steaming cups of hot sake. Lunch was classic kaiseki ryori, several courses of fine cuisine matched to the season, easily the best meal I've ever had in Japan. Indulging in delicacy after artfully presented delicacy, looking out past paper screens to the fat orange carp in the pond below, we savored this taste of the peaceful literati life.
Our hostess popped back in near the end of the meal, bringing umbrellas for the walk through her misty garden. Then, noticing my mother's thin sweater, she returned with her own jacket – "Just hang it on the hook when you leave." We were the only people walking the garden paths, past tea houses and plum blossoms, the most beautiful place I encountered in all of Kyoto.
Anyone can visit Hakusanso by paying an entrance fee of 500 yen. Lunch, which costs 4000 yen, is available by reservation. Call 075-751-4556 (English OK).
The second of my favorite places in Kyoto is the Fushimi Inari shrine, two stops south of Kyoto Station on the JR Nara line. The main shrine is across the street from Inari station, but the real attraction requires a little exercise. The mountain behind the first buildings is criss-crossed with walking trails lined with tens of thousands of vermillion torii gates, spaced close together to create the effect of moving through a sun-dappled orange tunnel in the midst of an enchanted forest.
The trail of gates leads past ponds and through pine forests, with every step taking one further into the realm of the magical and surreal. Jumbled groups of small stone shrines with carvings of sinister looking animal spirits appear at intervals in clearings along the path, shaded pockets of superstitution, black shadows of burning candles, an embodiment of the mysterious animist roots of the Shinto faith.
The dark places are balanced by sunny viewpoints near the top of the mountain, complete with small restaurants and coolers well-stocked with iced drinks. If one keeps following the gates however, the trail dips back down into fern-filled forest gorges on the back side of the mountain, wandering up and down hills and along trickling streams, leading past more carved statues and at least one dilapidated old wooden sake shop. It's easy to lose all sense of direction in the shadows. The orange gates seem to go on forever in all directions, the bright, noisy world outside becomes the fantasy world, and more than one visitor has come down the mountain a little wild-eyed, with shivers in their bones.
There's a wealth of meaning behind the gates, statues and shrines, but I think the best way to visit Fushimi Inari is with a blank slate, totally open to the mysterious. Knowing too much about the "why" of the place can take away from its power, so I won't talk about it here. Go yourself, get lost, and you'll never forget it.
Although the shrine is mentioned in most guidebooks, it's far enough from downtown to discourage most weekend tourists from visiting, and the mountain is big enough to accomodate the crowds that show up on sunny holidays. Alex Kerr has a wonderful description of the shrine in his book Lost Japan, which inspired me go check it out.
New Yorkers will be interested to know that The Gates, a notorious public art display in Central Park, was loosely modeled after Fushimi Inari.
Admission to the shrine is free, although a beer at the top will cost a bit more than one downtown.